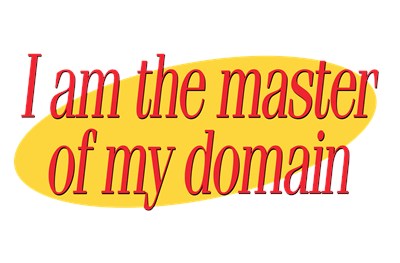 Kicking off your first website or online business is a huge challenge. There are countless pitfalls to avoid, and plenty of chances to make a mistake. Thankfully, thousands of people have trodden that path before.
Learning from the mistakes of others is a clever move. There are a number of steps to securing the full rights to your own domain name and website, and we've broken it down right here.
The Dos of Domain Name Ownership
Choose your own domain name.
This comes with the heavy caveat that you do so with advice from an expert that doesn't have a vested interest. If you know someone who works in search engine optimisation (SEO), ask them for assistance choosing a name. If you don't, do your own research or find a cheap freelancer with the basic knowledge to help you out (consider a site like Fiverr.com).
Definitely ensure that your details are accurate and kept up to date.
There are plenty of horror stories of people who have paid for their domains for several years, then got a new credit card that cannot be charged. If your email address is still active, that's fine – most providers will be more than happy to chase you for payment. However, if it's not, you're in trouble.
Set up your account to auto-renew if your finances aren't too tight. That way, you can be sure to stay in business. Some agencies will take care of this for you if the domain is registered with their account.
The Don'ts of Domain Name Ownership
Don't entrust your domain name to someone who doesn't deserve that trust.
Sometimes it's a great option to allow your web agency to handle the entire process, from purchasing the domain name, to building your site and handling the ongoing hosting. However, it's important to maintain some security. Reputable agencies will always hand your domain name back when you choose to move on.
Where possible, own it yourself, under your own account.
Your website is your online presence, and your domain is the front door. Agencies come with an immense amount of useful expertise, and should certainly be trusted to manage your account. However, much like a real estate agent, its best if you retain the ownership rights to your own property.
Be wary of letting your domain expire.
If you can, pay for a couple of years upfront. Register with an email that you regularly check. There is nothing more heartbreaking than losing control of a domain that you've invested in for several years, and being forced to shell out thousands of dollars to a reseller or, worse, a competitor. This is especially relevant in Australia, where despite the existence of legal barriers to registering and owning domain names unrelated to your business, the practice of domain-camping is widespread.
Tips for a Great Domain Name
When choosing your domain name, you want to get it right the first time. Once your site is indexed, attracting traffic and earning backlinks, you certainly don't want to have to start over and go through the messy business of redirects and lost site value.
One of the most important things you need to consider is SEO. While Google applies considerably less weight to domain names nowadays, it can still provide you a significant boost in the early stages of your site. Use keywords related to your industry, location or business name.
Avoid unnecessary characters in your domain name. In other words, don't make the mistake of hyphenating your business name. Keep it simple, and related to your business.
Buy either a .com domain or a local country-level domain, such as .com.au. There are advantages to more local domain names, especially as Google continues its industry-leading drive to deliver the most relevant, local content to people using their search engine.
The Upshot
Your domain name is absolutely essential to your continued online presence. In order to maintain a continued online presence, keep the domain in your name or work with an agency that you trust. Agency expertise is valuable, but your property is your property. You don't give your accountant your power of attorney, so don't give your agency the right to use and resell your domain name. If things ever go pear-shaped, you'll be glad everything is in your name.
https://wkdigital.com.au/wp-content/uploads/2017/03/4654089-master-of-my-domain-seinfeld-quotes.jpg
263
400
admin
https://wkdigital.com.au/wp-content/uploads/2017/04/logo-2.png
admin
2017-03-01 12:40:59
2017-04-26 01:55:17
Domain Ownership: How to Keep Your Domain in YOUR Name